Choose Highly Effective Steam Cleaning in Sydney
Hot water extraction cleaning is one of the most effective cleaning methods for all kinds of fabric coverings, hanging fabrics and upholstery. If you've got a carpet, armchair, rug or curtains that need some professional care and attention, our service for steam cleaning in Sydney is the one that you need. We've got the experience and the state-of-the-art tools needed to deliver an exceptional clean – it's a method that's brilliant at removing stains, dirt, dust, pollutants, allergens, and even pests! We give you:
Fantastic cleaning results delivered using the latest technology

Steam cleaning techniques suitable for all carpets, upholstery, rugs, curtains, and more!

24-hour a day client support

Weekend, evening and early morning appointment times for your convenience

A professionally trained and well-equipped team

Comprehensive insurance cover

A zero-cost, zero-obligation quote at any time!
What You Get When You Hire Our Sydney Steam Cleaners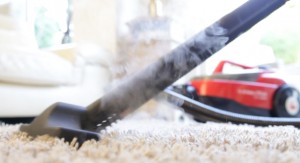 Our Sydney steam cleaning team work using specialist hot water extraction technology. The heat of the steam itself has great benefits in terms of cleanliness, gently melting the bonds between dirt and fabric, allowing even the worst stains to be properly addresses. The equipment injects the steam into the very deepest layers of the fabric, resulting in a powerful and lasting clean.
The steam cleaning method is great for carpet cleaning, upholstery cleaning, and more. Just let our team know what fabric you're planing to get clean and we'll let you know how we're going to help you!
Book the Steam Cleaning You Need in Sydney Now!
Get in touch with us now on (02) 9098 1732, or use our booking form or chat facility to reach us online. We'll give you a free quote on the steam cleaning you're interested in anywhere in Sydney, or arrange a convenient appointment for you right away.